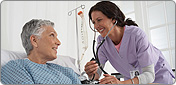 The goal of PASNA is to provide safe, state of the art anesthesia services for a wide range of patient's needs. We are committed to personal, quality care of each patient we treat. Our detailed attention to the past medical history, psychological and emotional status of our patients ensures optimal individualized anesthesia delivery.
Before your surgery, you will have a chance to meet with one of our anesthesia providers. Whether you are having your surgery at the hospital, or in a doctors office operatory, your provider will take the time to explain the process thoroughly. During that process, you will be interviewed regarding your medical and surgical history, medications, allergies, and previous anesthetics. We highly recommend that you bring a list of medications with you, as this will facilitate things. During the interview process, the different types of anesthetics available will be explained to you, and you will have the opportunity to help chose the anesthetic you wish. The anesthetic type will always be based on your safety and the requirements of the surgical procedure. At this time a consent form will require your signature. Prior to this you will have the opportunity to ask any questions you may have.
Your anesthetist or one of the facilities nursing staff will need to start an intravenous catheter through which your medications will be administered. You will be safely monitored with state of the art monitoring equipment including EKG, blood pressure, and pulse oximetry as required by those standards described by the American Society of Anesthesiologists. Your airway will be maintained as dictated by the anesthetic choice. For general anesthesia greater airway protection may be required. For sedation (MAC) anesthesia none may be required.
When your surgery is finished, you will be transported from the operating room to the post anesthesia care unit. Here you will be taken care of by one of the centers specially trained nurses. Your pain and nausea, if any, will be treated. When the staff is sure you are satisfactorily recovered from the anesthesia and surgery you will be discharged to the care of a responsible relative or friend.