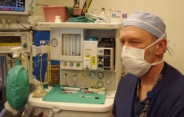 PASNA providers, both physicians and nurse anesthetists, are willing to share the over 30 years of clinical and management experience we've obtained working together, to help your hospitals' anesthesia services run at their maximum efficiency and cost effectiveness. A client centered approach is our primary goal to insure patient, surgeon, and hospital staff satisfaction. After all, patients don't arrive at the hospitals surgical suite looking to be anesthetized. They're there for surgery.
We're ready to work with you on:
Cost-efficient staffing models
Quality improvement programs
Continuing education opportunities
If you grow, we grow philosophy
Our medical staff is ready to be your Medical Director upon your center's request. This dedicated leadership responsibility provides additional support for your facility by attending meetings, implementing policies and procedures, and providing evidence based suggestions for maximizing your patient care and perhaps increasing your efficiencies.

If this sounds like a company you would like to work with, contact us today!